Play our Christmas game 'Stick Santa' and win up to $500!
MYOB customers have the chance to help Santa deliver all his gifts in time for Christmas and, in doing so, could win one of our prizes of up to $500 in value.

Ever wondered how Santa travels from rooftop to rooftop, sometimes in extremely icy conditions?
In this festively-themed online video game, it's your skill that will assist Santa in getting from place to place.
And it's proven to be popular. Last year, the Christmas-themed game sent MYOB clients and customers into a frenzy, with several thousand participants getting involved over the festive season.
That's partially because all players are in the running to win up to $500 on their choice of gift card from leading retailers, including Coles, Woolworths, Rebel Sport, Ticketmaster, JB Hi-Fi, Village Cinemas, iTunes and more.
But be warned! MYOB's Stick Santa is by no means easy to master, and you'll need every ounce of your skills to secure a top score in this game.
---
It's a long way to the top
---
Have you got your eye set on this year's top prize? To help set your expectations, here's what happened last year.
Last year's overall winner was Philip Anderson from Complementary Medicines Australia, who had a high score of 511. The runner up came in at 501 and the third place getter had 306.
Think you can beat those scores?
If you do, you'll share in a total of $3,500 worth of gift cards, with a top prize of $500, runner up to win $300, third taking away $200 and the next 25 highest scores receiving cards worth $100.
Enter as many times as you want until 24 December. Prize winners to be announced in the New Year.
CLICK THE PICTURE BELOW TO GET TAPPING!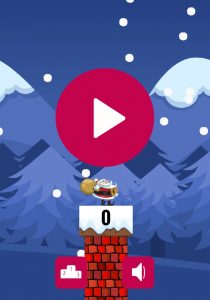 You can find the full terms and conditions here.
Good luck, and Happy Holidays!